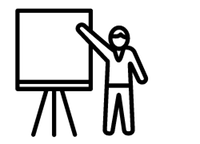 Visual strategic planning

When we do strategy with private, public and nonprofit organizaions we use a cutting-edge strategic planning methodology which bases planning around building a visual model of what it is that the initiative or organization is seeking to achieve. 
We use a DoView® Strategy Model for this work and the visual model we create with you is then used for priority setting, alignment, KPI identification etc. In a rapidly changing environment, traditional text-based strategic lans and approaches are not agile enough to allow organizations to respond to what they're facing. More on public and nonprofit sector planning with visual models, more on private sector strategic planning. More on the range of public sector and nonprofit planning we do. 
Strategy and outcomes training workshops

We run training in strategy and outcomes for private, public and nonprofit organizations. We teach you how to build visual strategy models yourself and how you can base your strategy, priority setting, alignment, KPI identification and other organizational work on these. More in our training section.  
Outcomes and performance management architecture 
We work with governments and international organizations to improve the way in which their outcomes, indicators and performance management systems are set-up and operate. more  
Methods we use
 The methods we use include: visual strategy modeling to bring together an organization's or sector's strategy into a single, easily accessible, visual model. 
FC2018