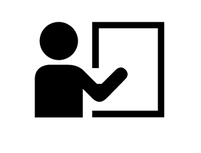 Our training approach and topics
We provide face-to-face or online training and mentoring at a range of levels from introductory through to advanced master classes. We have taught thousands of workshop participants and post-graduate students including: program managers; program staff; strategic planners; policy analysts; researchers and evaluators. Our workshops are fast-paced, entertaining, informative and responsive to the needs of participants. We use direct presentations, role-plays, group and individual exercises and adapt each workshop to the particular needs and interests of the participants in the room and use examples provided by them. 
We train in the areas of: strategic planning; program evaluation; outcomes measurement; impact assessment; policy development; evidence-based policy and practice; performance management; indicator and KPI development; and, conflict management. More informatoin on selected training workshop below. 
Strategic planning and strategic thinking training workshops
 enWe provide training on strategic planning and enhanced strategic thinking. This includes all aspects of the strategy process including: situational analysis; SWOT analysis; ensuring customer and client focus through customer experience mapping; incorporating evidence; co-production of strategy with stakeholders; indentifying outcomes; prioritizing outcomes; identifying possible pathways of action; scenario analysis; identifying indicators; KPIs and measuring impact; aligning projects and activities around strategic priorities; managing risk around strategy implementation; developing sector-wide multi-party collaborative strategy development; communicatin reporting on strategy implementation. We provide tools for the type of agile planning necessary in the rapidly changing strategic environments most organizations are facing these days. 
This is the first time I have ever given a 10! I am a stern critic, generally difficult to please, however this workshop suited my needs exactly, practically based and well presented.

Parker Duignan Consulting course participant's feedback



Evaluation training workshops
We provide training on all aspects of evaluation. This includes implementation, process and impact evaluation. We provide a framework for thinking about evaluation and take participants through the step-by-step process of plannign an evaluation. We have been involved in teaching evaluation to thousands of workshop participants and post-graduate students including program management; program staff; policy analysts and evaluators. more
Very enlightening. Has made things very clear.
I found this day exciting. It's been wonderful.
Enjoyed the practical implementation and knowledge from your model of evaluation. 
Has definitely exceeded my expectations.
Excellent format, pace and delivery style. Thank you for sharing your expertise with us all. 




Parker Duignan  Consulting evaluation course participant feedback.
Policy development training workshops
We use a 'toolkit' of policy development tools as the basis for our policy training. Policy analysts can then pick and chose the exact tool they need for working with each stage in the policy making process. The toolkit we use includes tools for: identifying the current stage of the policy-making process in any particular area; selecting from a list of possible policy instruments; involving stakeholders in policy co-production; identifying policy outcomes; identifying policy options; reviewing and collecting evidence for policy-making; policy risk-management; economic evaluation in policy-making; stakeholder communication and monitoring the impact of policy.
Participant ratings from a policy development workshop: 100% of participants rated presenter's knowledge of the subject as 'very good'. For 'relevance' and 'standard of presentation' 37% of participants rated this 'very good' and 63% rated it 'excellent'. (Possible ratings: poor, average, good, very good, excellent).

Feedback from Parker Duignan Consulting Policy Development Workshop participants.
Credit: Presentation Icon Alexander Gruzdev. 
FC2018